Previous Brand Use Cases
BevMo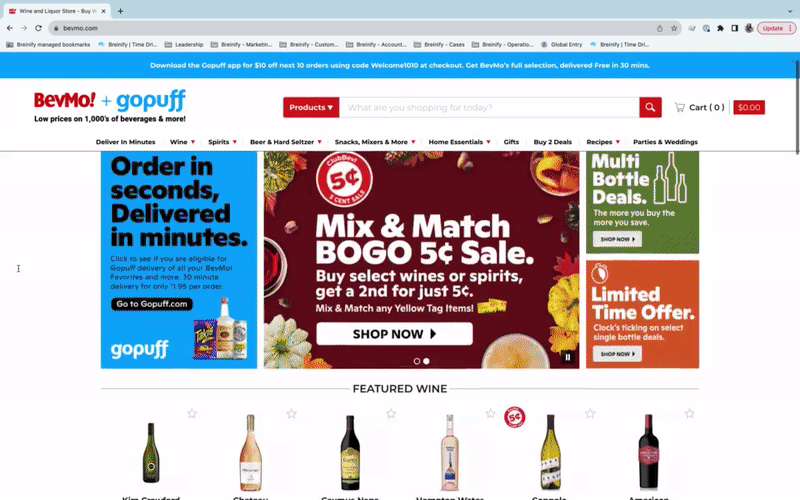 Brand: BevMo (bevmo.com)
Experience: Dynamic Page Reordering [Featured Wines]
Description:
Using the same landing page, Breinify reorders the carousels for fast testing and learns based on customer preferences.

This dynamic reordering can be applied to all types of components/modules on the page such as heroes, navigation, featured tiles, carousels, etc.
Time to Launch: 3 week
Results:
This reduced BevMo's need to create new landing pages from 52 down to just 4.
No engineering dependencies - updated through publication on Google Tag Manager.
Big 5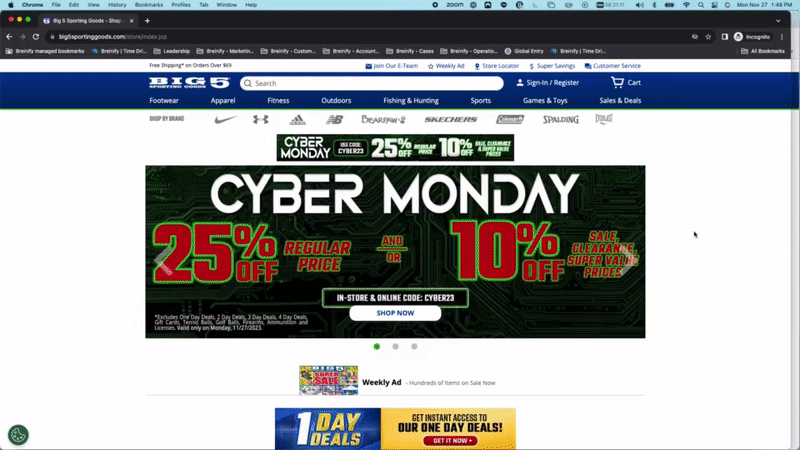 Brand: Big 5 (big5sportinggoods.com)
Experience: Dynamic Categories
Description:
This experience can be put on any page for any category (parent or subcategory). This particular experience was hosted on the home page.

Based on how a visitor browses the site or first lands on the home page, the categories are dynamically selected out of a set of ~50 subcategories that already exist in the navigation.
Time to Launch: 3 days
Results:
Within the first 2 weeks of going live, this experience was winning against a manually curated control group by 14%.

2 months later, the Breinify experience became the new "control" group and we improved the results by another 9.3%.

No engineering dependencies were required - the experience was updated through publication on Google Tag Manager.

Categories were shared via a spreadsheet with existing assets.

Subcategories with missing assets were automatically supplemented with product images that fit the subcategory, which enabled the team to avoid bottlenecks.
Cosmo Prof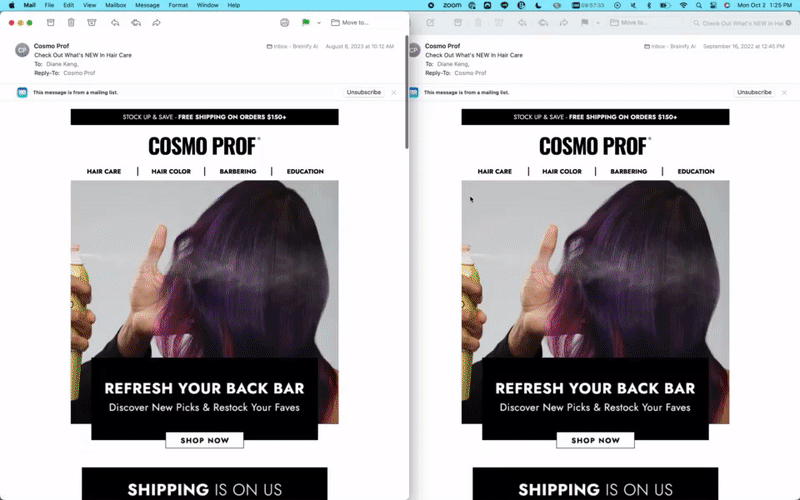 Brand: Cosmo Prof (cosmoprofbeauty.com)
Experience: Omni-channel [Dynamic Home Page only on Email Redirect]
Description:
Based on a fully individualized email, a customer clicks on content (such as a promotion) that is then injected into the landed-on home page to keep the experience consistent.
Time to Launch: 1 week
Results:
This was a brand new omni-channel flow that currently generates over $20K in revenue a month.

The promotion can be segmented based on items in a cart or through customer preferences.
Greenies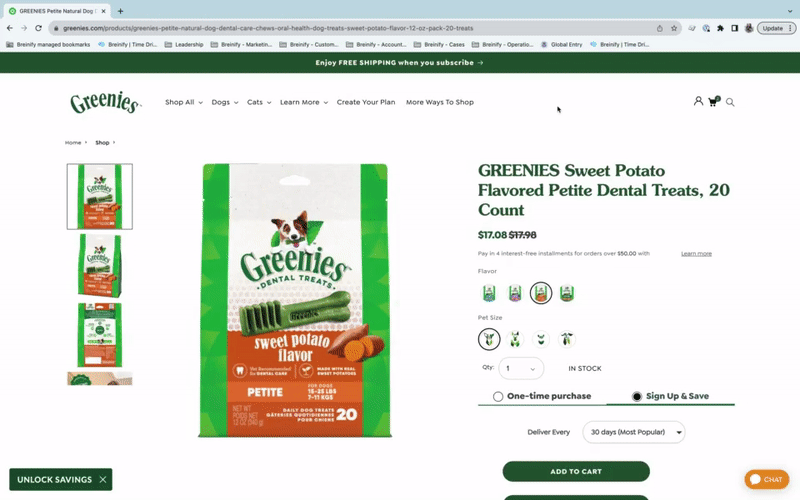 Brand: Greenies (greenies.com)
Experience: Mini Cart Add-On
Description:
A carousel of product recommendations on the mini cart that is usually the pop-up that appears when the cart is hovered over or clicked on.
Time to Launch: 3 days
Results:
With a 50/50 split test, Breinify generated 3.5% lift in total revenue within 2 days compared to the control.